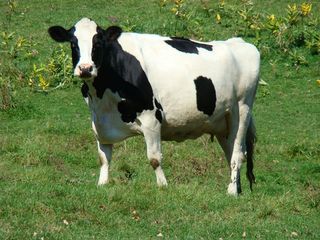 Seems like we hear it everyday: "Buy local." "Go green." "Buy organic." "Support family farms."
When a group of Maine farmers worked together to create MOOMilk, they probably were taking all that consumer buzz to heart. Their product fits all the criteria: MOOMilk is organic milk that is produced by Maine farmers. The kind of product we're looking for so we can "walk the talk," right?
Hmm. Maybe not.
As the Bangor Daily News is reporting MOOMilk is in danger of closing up shop, taking with it a great example of Maine's entrepreneurial spirit in action – and the kind of product the public has been giving lip service to.
Fortunately, it's not too late, and you can help by simply buying the product. It's tasty and healthy, and it gives you the chance to put into action all those bumper stickers and t-shirt slogans about saving the planet – in this case, one farm at a time.
Actually, SIX farms—three in Aroostook County, three in Washington County.
And how about this for additional inspiration: in the wake of the MOOMilk's struggles, the Aroostook County farmers could have begun shipping to another market but knew that if they did, service to the Washington County farms would stop, as they are too far out of the conventional trucking route for hauling their milk to be profitable. Instead, the Aroostook farmers have continued to band together with the farmers in Washington County.
If these farmers, whose very livelihood is on the line, can choose to stick together for the sake of a quality product like MOOMilk, can't we stick with them, too?
MOOMilk is available at Hannafords (which recently lowered the price so that MOOMilk can more fairly compete with national, out-of-state brands). It's also available at IGA, Shurfine, and elsewhere.
Allison Wells
Senior Director, Public Affairs
Natural Resources Council of Maine
(and Mom to a MOOMilk-drinking Family!)