I just got back from a weekend in Boston with some friends. We stayed in a beautiful hotel in the heart of the city and had a great time. But, as a friend and I took the bus back to Augusta at the end of our whirlwind trip, we both quickly agreed we were ready to get home.
We talked about how much fun a big city is—there is always something going on. Restaurants stay open past 9. You can watch traffic go by at any hour of the day or night. But, then we said how we couldn't live a life that fast-paced. We were ready to head back to Augusta, Maine. We liked small towns and Maine cities where we can easily drive around, find parking, have peace and quiet, and where we know our neighbors.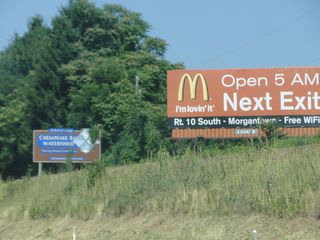 And as the bus crossed over the bridge in Kittery on Sunday night, we both remarked that one of our favorite things about living in Maine is….no billboards! You know when you are back in Maine because you can see trees, and scenery that isn't littered with billboards advertising casinos, beer, McDonalds, or anything else. Thankfully, the billboard ban wasn't reversed last legislative session, though it was discussed. There were more than 50 bills last session that would have rolled back the billboard ban, bottle bill, watershed and wildlife habitat protection, energy efficiency, and so much more. I can't (and don't want to) imagine what it would have been like to see beautiful Maine roadways littered with bottles and cluttered with roadside signs and scattered development in areas that are now protected….can you?
That thought brings me to one of the other reasons I love Maine. A reason I didn't know about until I started working at the Natural Resources Council of Maine sixteen years ago. In Maine, you can make a difference, a real difference, when you decide to take part in the legislative process. You can pick up the phone and call your legislator at home. You can write an email to your legislator and have them respond directly to you. You can go to the State House and meet with them. I am sure you can do this in every state, but I feel like being in Maine, especially living in Central Maine like I do, you have the State House and legislators right there. I feel like my voice is being heard when I take the time to get involved.
Today, as a matter of fact, more than 60 NRCM members, supporters, and staff just walked over to the State House (only a block and a half from our office) to speak with legislators about bills related to Maine's North Woods, regulatory "takings," wildlife habitat protection, and support for the Land for Maine's Future program. They came to NRCM's office this morning for our annual Citizen Action Day, received briefings by NRCM staff about bills that are critical to safeguarding Maine's environment, and then they walked over to meet with elected officials to share their concerns.
I urge all of you to take a few minutes out of your day today to contact your elected officials – by email, phone, or letter – to tell them why you support protections for Maine's air, land, water, and wildlife. To learn more about bills that NRCM is working on this session, visit our bill tracking page and read position memos, see upcoming hearing and work session dates, and read testimony by NRCM and others. Getting involved by speaking up and speaking out can make all the difference.
How will you take action to protect Maine's environment today?