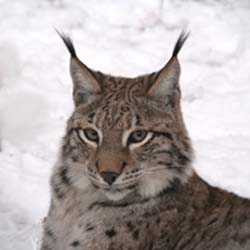 Looks like Maine is once again home to critical habitat for the Canada Lynx.  This would overturn the 2006 decision not to designate critical habitat in Maine.  There isn't a map linked to this news release but they do say that over 9,000 square miles of Maine is included.  My guess is that this is very close to what was designated before.  This is good news.
Diano Circo
North Woods Policy Advocate and Outreach Coordinator
From a Portland Press Herald news update today:
"The U.S. Fish and Wildlife Service has reversed a 2006 decision and announced today that nearly 10,000 square miles of northern Maine forestland will be protected as critical habitat for Canada lynx…"  Read the rest of this news story.
Read the full U.S. Fish & Wildlife Service news release here: http://www.fws.gov/midwest/Endangered/mammals/lynx/chrevfnl25feb2009newsrel.html