I've been writing a lot about gardens and pollinators lately, but my roots are really in the woods. I was raised in Maine and have studied wildlife in forest environments for decades. My love of the woods is also in my blood. I come from a long line of forest dwellers. My great-grandfather (aptly named "Forest Marsh") was a Master Maine Guide, and my Maine roots go back much further than that.
To love Maine is to love the forest – the way the landscape forms a mosaic of expansive woods interwoven with rivers, lakes, and our rugged coastlines. It's nothing short of magical.
Our forests are truly special places that give us the beautiful songs of warblers and thrushes, the rich taste of maple syrup, and the bounty of brook trout in a clean, cold stream. What's more, healthy woodlands deliver valuable ecosystem services like clean water, air, and productive soils. Our woodlands give us a sense of place and long-honored cultural traditions. Our forest heritage makes us who we are.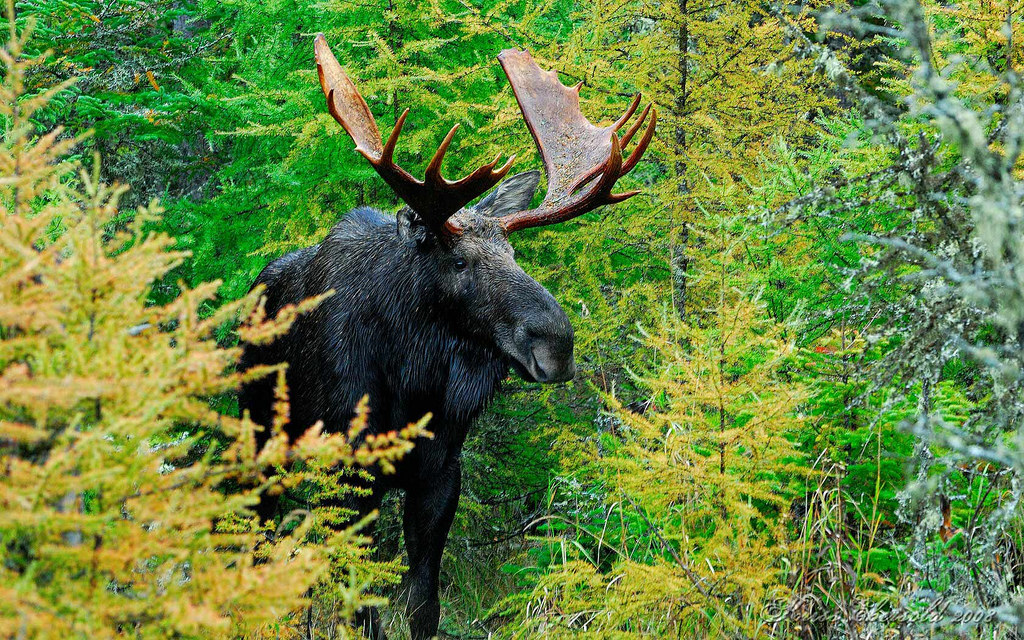 This is why I have such a passion for conserving Maine's forests — for our cultural identities, and for the wildlife that need these habitats to survive. Private woodland owners — of all kinds — are key to the long-term preservation of forest health, integrity, and biodiversity. Although Maine is the most heavily forested state in the country, we are still losing over 6,000 acres of forestland to development every year.
As an ecologist, that's an alarming statistic. Not only are we marring and fragmenting the beauty of our forested landscapes, but the impact to wildlife is great. Our animal communities are losing their homes (habitats) in the wake of our housing developments, big box stores, new roads, and more. Maine is not immune to these development pressures.
The news is not all bad, though. As a State we have been a leader in private land conservation evidenced by the growth in astro-tourism.
What can we do to conserve our forest heritage and to provide forever homes for our wildlife?
See three ways below.
Consider a Virtual Property Consultation as a more affordable option if you live a distance from my home base of Poland Spring. You'll send photos of your property to me, and I'll do a virtual walk-through of your property on a video call. For this service I also build a customized Pinterest board full of ideas for your landscape! You also get the recording of the video call to keep and refer back to whenever you wish.
Three Wicked Important Ways to Conserve Our Woods
1. Get Involved at the Community Level
If you are not already involved at a civic level in your communities, this is one of the best ways to affect change. Maine municipalities have town/city councils in suburban/urban areas, or planning. or select boards in more rural areas. These governing bodies make key decisions about how land is zoned and review any development proposals. Development has a place in our society, but it should be done carefully, thoughtfully, and with a full assessment of impacts to our natural areas and wildlife populations. Consider volunteering for your town's conservation commission. Your town doesn't have one? Form one! See second resource in list below.
Check out:
2. Buy Locally Made Wood Products
I recently had a custom-built cabinet made for our family room by Larry MacArthur in Millinocket. Larry sources all his pine from the woods of Maine, and by buying furniture from him I am supporting our working forest economy. When you buy local wood products you contribute to the wood products economy of Maine and incur less of an impact on the environment (the carbon footprint of cheaper, imported furniture has many hidden costs to our natural world). A quick google search will reveal an impressive array of Maine craftsman and artisans making a living from Maine trees. Although the practice of logging may seem counter-intuitive to conservation, there are many professional loggers and foresters who work hard to conserve and enhance wildlife habitat and forest health through green certification systems and voluntary management practices. Want recommendations? Drop me a line.
Timber harvests allow many woodland owners to keep their land as forestland. If you are a woodland owner yourself, please see #3, below.
3. Actively Manage your Forest—at Any Scale
Whether you have a 1000 acres of forestland, or a quarter of an acre – you can make a difference for forest wildlife. There are many resources throughout the State of Maine to aid in the identification and management of invasive plants and pests (like the Emerald Ash Borer, recently documented in Maine for the first time), and for general forest management help. If you own more than 10 acres, you can hire one of the State's many licensed professional foresters who can write a forest management plan for you that will enable you to enroll in the Tree Growth program, which saves money on property taxes.
If you are a woodland owner (even a very small one) and wonder:
How can I provide more nutritious wildlife foods for the animals that inhabit my forest?
 How can I attract a broader variety of songbirds?
How can I provide nesting and denning habitat for a variety of birds and mammals?
What about winter shelter for deer and escape cover for birds?
What about vernal pools? How do I identify and protect them?
 How can I boost biodiversity?
This is a specialty of mine, and when you work with me on your forest habitat, I will thoughtfully walk through your questions and concerns, and help you enhance your unique landscape for the benefit of wildlife – whether you choose to hire me for one property consultation, several visits, or a habitat design package.