Walk into most of the woodlands in our region today, and you will find a lack of dead and dying trees. Yes, that's right – most of our forests do not have enough dead and decaying trees. To many people, this may seem counterintuitive.
Why would we want more dead and dying trees on the landscape?
Maine is 90% forested, so this question is an important one.
Dead or partially dead standing trees (snags) and cavity trees (live or partially dead trees with cavities) are important to the life cycle and habitat needs of more than 40 species of birds and mammals, and countless species of insects and fungi.
Snags and cavity trees are of vital importance to wildlife, in general. As much as a third of our wildlife species use cavity trees, snags, and downed logs in some way.
A forest may have all the food an animal needs, but if natural tree cavities and snags are hard to come by, cavity-nesting wildlife species cannot reproduce in that area because they simply can't find the structures they need to successfully nest and raise their young.
As a consulting wildlife ecologist and habitat planner, I repeatedly encounter landowners and citizens who do not know what a "snag" is, and if they do, many do not fully grasp the significance of these features on the landscape, and for good reason. There is a general lack of awareness about so many things related to wildlife and their specific needs, even among many nature enthusiasts.
My aim, dear reader, is to help you begin looking for these trees through a wildlife habitat lens so that the bigger picture can come into focus, leaving you more equipped to assess the habitat value of your wooded areas. Things that you may have never noticed before will become perfectly clear.
When I am conducting a habitat assessment for planning purposes, or walking the woods with a consultation client, one of the first things I look for is the presence of snags and den trees. In my experience, they are often lacking – either in number, size class, or both.
Why are they lacking? In many cases, it's because of our collective propensity to remove dying trees "before they go to waste" and dead trees that have been viewed as unsightly or undesirable.
Many forest professionals today make an effort to retain trees for wildlife during harvest operations, but it takes time to recruit these trees, and specific expertise to do it well. Historically, many timber harvests failed to leave adequate numbers of larger trees that could eventually provide much-needed habitat as a snag or cavity tree.
There is large variation in tree diameter requirements (how big the tree is) for cavity-using species, such as Northern Flickers (above).
Some species excavate their own cavity (primary excavators), while many more species use holes that were previously excavated by woodpeckers, chickadees, and other primary excavators.
If your forested habitats have a lot of small pole-sized snags, but nothing in the larger diameter classes, the quality of these habitats will be low for many species of birds and mammals that require an already-excavated cavity.
Some species use decaying, standing trees as den trees (such as the black bear, at top). Pine marten prefer to raise their young in large hollow trees that are greater than 15 inches.
Bats and overwintering butterflies find much-needed shelter under the loose bark of a decaying tree.
I could go on and on with a wide variety of examples of how different critters use dead and dying trees.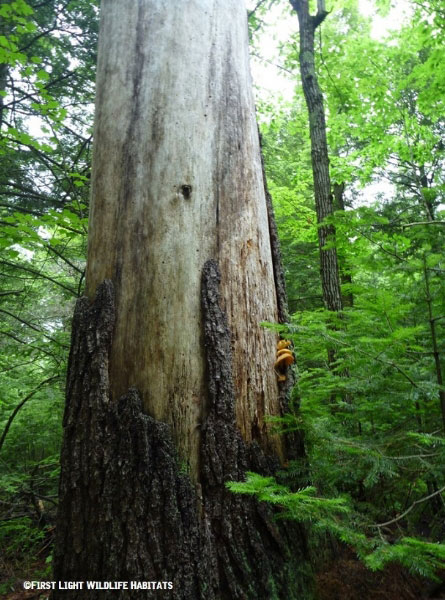 "Snags" include standing dead, or partially dead trees of a minimum size (diameter and height), and at least half-covered by bark.
Overall, snags and cavity trees are critical components of wildlife habitat and many species that depend on these features have very specific needs related to nesting, denning, perching, foraging, and roosting.  In addition, decaying trees are essential to the health of our forest soils and nutrient cycling.
Because there is such diversity in our wildlife communities (beetles to birds to bears), we must provide a diversity of dead and dying trees – different species of trees with differing hardness, different sizes and heights, even differing spatial arrangements (clumped to scattered).
A forest will support a wider variety of wildlife species if it contains a large range of sizes and types of dead and dying trees, across space and time. Larger diameter trees are particularly important.
Three Ways to Support Wildlife that Use Snags and Cavity Trees:
Allow some trees to rot and decay in place, as long as there are no safety concerns.
Create snags through girdling of live trees. Work with me to get specific, customized recommendations for your forest habitat or woodland situation.
Promote a variety of tree species and sizes (diameter classes) in your wooded areas.
Keep in mind, you do not need acres and acres of land to provide these structures for wildlife. These techniques can be applied at even the smallest scale (as safety permits). Just one dead or dying tree on your landscape could support the rearing of countless chickadees, bluebirds, or woodpeckers.
Finally, the next time you go out in the woods, look around you for the dead trees. Depending on where you are, you might even walk right by a bear den without knowing it!
Did you know? Woodpecker skulls are specially designed to absorb shock, allowing them to hammer wood with their ultra-hard beaks at a rate of 18-22 times per second. Their astonishing ability to do this without brain damage has inspired innovative designs of head-protection gear by the U.S. Army and football helmet manufacturers.
By Deborah Perkins, M.S. – Wildlife Ecologist
First Light Wildlife Habitats
Originally published December 2018