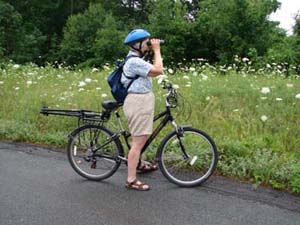 Wanting to exercise but not walk this spring, I purchased a bike. Looking for a safe place to ride in peace and away from traffic, I found the section the ET trail between Evans Street and Wainwright recreation fields. To my delight as a birder, I have been pleasantly surprised by the number of birds serenading me as I enjoy my rides. The following birds are nesting along trail:  American Robin, Veery, Northern Cardinal and Catbird; Downy and Hairy Woodpeckers, Redwing Blackbird, Song and Chipping Sparrows, Red-eyed Vireo, American Goldfinch, and  five warbler species – Black and white, Common-yellowthroat, Black-throated Green, Yellow, and Ovenbird.
In the open fields of the landfill area, Bobolink and Savannah Sparrow are nesting on the cap and Barn and Tree Swallows are catching bugs on the wing.  Many other species can be observed during spring and fall migration.
Killdeer like open grassy/gravelly areas for their nest so it not a surprise that a pair chose to nest at the recreation fields.  They did not know their chosen spot would be in such a high traffic area – beside the path to the recreation building.   Thankfully, the rec staff marked their nest area off with flags.  People have been wonderful in keeping clear of their nest (even the huge crowds at the soccer tournament) so the birds are still sitting on four highly camouflaged eggs in a scrape on the ground.  (as of July 14th)  Riding slowly by on a bike or in a car does not seem to disturb them, but approaching on foot will trigger them to move from the nest and begin a distress display and loud call to distract your attention from the nest.   When this occurs you should move away quickly so they can get back to incubating the eggs.
Once the little ones hatch, they will be running all around the area so care must be taken not to accidentally step on them.
Marie Jordan