I thought it was about time to share with you all my adventures in bike commuting from Great Pond in North Belgrade to our office in Augusta this summer! I've been meaning to post an entry but it seems that the only time I've had to write has been while I've been riding my bike! I began longer distance bike commuting last summer when I decided to move out to our family's camp on Great Pond. I found an excellent deal on a road bike on Craig's List, got some shoes, new bike helmet, and some spandex and hit the road. I'd done some bike commuting previously when I lived in Boulder, CO, and Burlington, VT, but my trips were never longer than 10 miles round trip. Now that I moved out to camp I had a 20-mile ride each way! Because I wasn't as comfortable on one of the roads which had a narrow shoulder, I decided to ease into it by driving 7.5 miles and parking my car at Christie's on Rte. 27 and biking the remaining 12.5 miles to work. I probably did this an average of 2-3 times per week and worked from home one day per week. I thoroughly enjoyed this time on my bike, and became more comfortable as the summer passed by….
In November last year I moved to Hallowell where my commute became only two miles, which made walking, biking, or carpooling all easy, low-carbon commuting options. I'm not going to lie – I really enjoyed the shorter commute! Unfortunately, my roommates moved out at the end of May and the house was rented to someone else, so I decided to head back out to the lake for the summer… and the longer commute. I managed to get a solid week in of the 25-mile roundtrip commuting days before the thunderstorms started rolling in every afternoon and the road construction on Rte 27 began. With a few good commuting days here and there in June, I feel like my true commitment to long distance bike commuting began on July 1st! To avoid the construction I can carpool with my parents to Oakland and then begin a rolling ride on Rte 23. If they're not working then I have been allowed to leave my car at the Lakeside Country Market in Oakland which is quite nice (they have excellent wild blueberry ice cream)! This multi-modal option means I avoid the dangerous construction and spend less time on Rte 27, but my commute is now 18 miles each way! It is a beautiful ride for the first 10 and then I'm back alongside large trucks, construction vehicles, and regular commuters.
The ride takes me just over an hour each way, providing me with the opportunity to prepare for the work day in the morning and decompress on the way home. It also allows me to take notice of all that is around me which I would normally just drive right by. I see and enjoy the abundant wildlife, rolling farm fields, beautiful lake views, hear birds singing, and can wave hello to people out walking or riding along the road. And as I watch my speedometer tick off the miles I feel much better than I do as they tick by in my car because not only am I saving more money now that gas prices have risen, but I'm saving the same amount of carbon and getting much needed exercise! And getting more exercise means I get to eat more ice cream and strawberry-rhubarb pie!
I thought I'd share my experience from the past couple days: on Tuesday the forecast looked good so I dropped the car at Lakeside Market and had a beautiful ride ride into work and arrived feeling charged up for the day. As I left the office at 6pm I saw the dark clouds off in the distance so it quickly became a race to avoid the storm. I made it off Rte 27 and a couple miles closer to Oakland when the first rain drops began to fall. It wasn't too threatening and since it was warm out I decided to keep pedaling (but as fast as I could because I hate being out in thunderstorms!). The road seemed much longer than it did riding in the morning, but I'm pretty sure that was not possible. As the rain began falling steadier and steadier I began cursing myself for not leaving earlier and for "doing my part," but at the same time I felt even better about my commitment to ride. I arrived sopping wet but in one piece at the store 8 miles later and just as I put my bike in the car, the first clap of thunder came followed by a torrent of rain. Phew. I made it!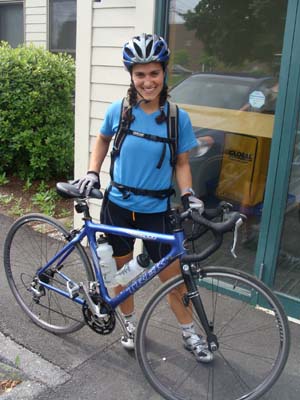 On Wednesday the forecast looked clear in the afternoon but it was a bit foggy and misty in the morning. Unfortunately, my speedometer wasn't working so it took me a bit longer to ride in since I couldn't see how slow I was riding up those hills! You can see from the photo though that I'm still smiling because it didn't rain and the sun even came out for my decent into Augusta. I felt great as I left the office and there was not a cloud in the sky for my ride home – this was the perfect riding weather! I felt energized by my speedometer randomly working again and got out of Augusta quickly. However, Rte. 23 seemed to magically get longer as I got closer to Oakland…someone's playing a dirty trick on me again! Or maybe my legs were just a little more tired.  I did make it and decided to reward myself with a yummy wild blueberry ice cream on the beautiful sunny evening, followed by a nice swim in the lake. Wednesday was a good day to be a bike commuter!
Unfortunately, with today's 70% chance of severe thunderstorms I decided to drive in.  So I'm not feeling as "energy independent" today! But I did throw my bike in the car so that I can use it to run a couple of errands around Augusta before the clouds roll in! It's amazing how much more I hate driving now that I've been biking to work. I actually get disappointed when I have to drive. Although, sometimes my legs don't mind the day off!
I encourage everyone to give bike commuting a try – whether you ride one mile or twenty – it's a great way to do your part to become more energy independent this year! And it means you get to eat more ice cream!  Just begin with whatever level works for you and you will be amazed how quickly you become comfortable on your bike. If you see me out on the road this summer don't forget to wave hello!
Whew – you can see that I have waaayyy too much time to think on my rides to and from work! Happy 4th!
Sara Lovitz
Clean Energy Outreach Coordinator
And aspiring long distance bike commuter