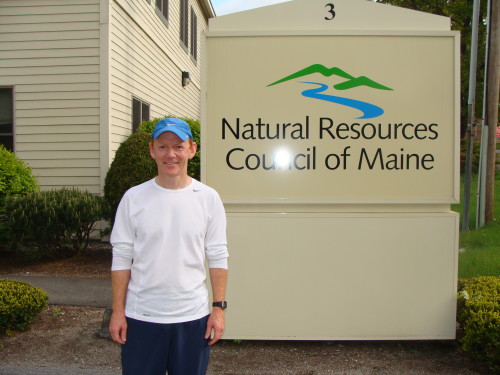 For "Commute Another Way Week" I parked in Gardiner and ran six miles up the Kennebec Rail Trail to Augusta.  The trek saved a small amount of gasoline and emissions, but fueled me for the day with great images of a vibrant river, and thoughts about the role NRCM has played in cleaning up this river and helping protect Maine's environment through our work at the State House over the past 50 years.
First, what a great trail!  In the past, I used to bike the 36 miles from Brunswick to Augusta a few times every summer, with one of those rides timed with "Commute Another Way Week."  Before the full 6.5-mile trail was completed a few years ago, the bike ride through Farmingdale was pretty hairy – no shoulder and a steady flow of rushing commuters.  Now the trail provides a safe and smooth alternative path, with great views of the river.
As I ran the course this morning I passed other runners, bikers, and walkers, and I realized that forty years ago nobody in their right mind would have wanted to be this close to the polluted Kennebec.  Fish kills in the 1960s took the lives of thousands of fish, but today I saw osprey overhead, and I kept looking for a possible sturgeon leaping – a sight I've seen other times along the Kennebec.
As I approached Augusta, with the State House dome looming, my mind shifted toward the legislative battles of yesterday, and today. NRCM staff was tracking eleven different bills yesterday in three committees.   We helped defeat a few bad bills, achieved some important improvements in the big energy efficiency bill under development, but also watched a couple bills get more support than they should have.  We have our work cut out for us again today, which is supposed to be the last day of work at the committee level before bills are sent to the full House and Senate for action.
Showered and revived by the alternative commute, I'm now ready to head back to the State House. Today's scheduled action includes work sessions on bills to promote community-based wind power, require notification about pesticide spraying, and boost energy efficiency programs for homes. We also have some more work to do today to defeat some bad bills.
I'll catch a ride back to Gardiner at the end of the day, with a small feeling of having done my part for this annual awareness raising week about the benefits of getting out of one's car, or jumping into a car with others, and commuting another way.
-Pete Didisheim, NRCM Advocacy Director