NRCM 60th Anniversary Scrapbook
In 2019, the Natural Resources Council of Maine celebrated 60 years of protecting the nature of Maine. Thanks to the support and engagement of our members, we had much to celebrate from our years of working together. Throughout the year, we hosted a variety of events and other opportunities to enjoy Maine's beautiful outdoors and posted some photos here in our scrapbook. Enjoy!
Polar Bear Dip & Dash
December 31, 2019
A snowstorm didn't slow more than 160 brave souls who ran and/or dipped at our annual New Year's Eve event! Participants and sponsors raised nearly $24,000 to support action on climate change. Whether you ran, swam, or volunteered, a huge thank you to all involved. To view photos or race results visit www.nrcm.org/events/polar-bear-dip-dash. Save the date to join us this year, December 31, 2020!
To see more photos from the event, visit our Facebook page to view our photo album.
Conservation Leadership Awards
October 16, 2019
NRCM members, staff, and board gathered at the Jewish Community Alliance of Southern Maine in Portland to celebrate this year's recipients of the Natural Resources Council of Maine's Conservation Leadership Awards. This year's recipients were Jon Lund (Lifetime Achievement), Liz Caruso, members of SolaRise Portland, and Sandi Howard (People's Choice Award). You can learn more about their work here.
To see more photos from the evening, visit our Facebook page to view our photo album.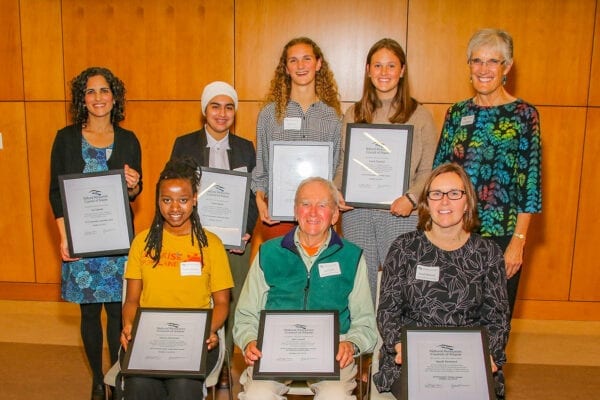 2019 Conservation Leadership Award recipients, pictured from L to R: Front Row: Aimee Ishimwe of SolaRISE, Jon Lund (Lifetime Achievement), Sandi Howard (People's Choice Award) Back Row: Liz Caruso, Yusur Jasmin of SolaRISE, Siri Pierce of SolaRISE, Lucia Daranyi of SolaRISE, and NRCM CEO Lisa Pohlmann
Sandra and Wynn Muller were finalists for this year's People's Choice Award for their steadfast dedication to the protection of clean water in Maine's lakes, especially Wilson Lake in Wilton, where they live.
Members of Say NO to NECEC celebrate with two of the evening's award recipients, Liz Caruso and Sandi Howard
NRCM CEO Lisa Pohlmann (center) with current board member Marcia Harrington and former board member Jeff Pidot.
Some of NRCM's staff working to oppose the proposed CMP transmission corridor pose with Liz Caruso, who received an award for her dedication and hard work in opposing the project. (From left: NRCM Climate & Clean Energy Outreach Coordinator Sophie Janeway, Forests & Wildlife Director Cathy Johnson, Liz Caruso, Clean Energy Attorney Sue Ely, Senior Director of Advocacy Pete Didisheim, and Staff Scientist Nick Bennett)
Members of Jon Lund's family gather to celebrate his Lifetime Achievement Award
Member Hike with Midcoast Conservancy
September 14, 2019
The Natural Resources Council of Maine and the Midcoast Conservancy teamed up for a hike along the Hidden Knoll Trail in Montville, led by Hills to Sea Trail co-creator Buck O'Herin. Thanks for all who joined us for this wooded hike in Midcoast Maine.
Penobscot River Paddle
August 24, 2019
More than 60 NRCM members and supporters joined NRCM and the Penobscot Paddle & Chowder Society for a 10.5-mile, flatwater paddle on the Penobscot River from Brewer to Orrington on Saturday, August 24. In addition to celebrating NRCM's 60th anniversary, the paddle commemorated the ongoing recovery of the Penobscot River after the removal of the Great Works dam in 2012 and the Veazie Dam in 2013. We spotted many Bald Eagles along the way. We even spotted a seal near the end of our paddle in Orrington!
Kennebec River Paddle from Sidney to Augusta
August 10, 2019
More than 60 people joined NRCM and the Penobscot Paddle & Chowder Society for a paddle down the Kennebec River, past the former site of the Edwards Dam in Augusta. This paddle was a celebration of the 20th anniversary of the removal of that dam, which was the start of the restoration of the river's fishery. Bald Eagles and Ospreys circled overhead within sight of the paddlers, and the weather held until the paddle ended at the boat launch in downtown Augusta early in the afternoon. Thanks to everyone who joined us for this wonderful afternoon on the free-flowing Kennebec River.
Puffin Cruise on the Hardy Boat
July 18, 2019
Our fifth annual cruise aboard the Hardy Boat out of New Harbor was another great success! NRCM members and staff headed out to Eastern Egg Rock while Dr. Steve Kress, founder of Project Puffin, narrated our trip, giving an overview of the project, and answering questions. We saw hundreds of puffins and other sea birds as we circumnavigated Eastern Egg Rock in Muscongus Bay on a perfect, warm summer evening. Read more about this trip in our Birding with Jeff & Allison blog.
60th Anniversary Celebration
June 29, 2019
More than 200 NRCM members, staff, and board spent the afternoon in Cushing at the Bernard Langlais Sculpture Preserve. This multi-generational event gave people the opportunity to view 12 larger-than-life sculptures and see Bernard Langlais' workshop and homestead. Wonderful music was provided by Old Grey Goose. Thanks to everyone who attended!
Plogging in Lewiston
May 19, 2019
NRCM teamed up with Lamey Wellehan and Baxter Brewing for a fun morning of plogging—picking up litter and walking/jogging—in Lewiston/Auburn. We met at the parking area of Baxter Brewing and after a few words from Lamey Wellehan and NRCM, participants departed at 11:00 a.m. to plog until noon.
We returned to Baxter Brewing to grab a bite to eat. NRCM Sustainable Maine Outreach Coordinator Chrissy Adamowicz presented a 20-minute documentary, Plastic Ocean, followed by a talk about our efforts reducing plastics around Maine. Baxter Brewing generously donated $1/drink to NRCM's efforts reducing pollution in Maine.
NRCM State House Action Day
NRCM Office and Maine State House on Tuesday, April 2, 2019
Citizens take action! From climate change to plastic bag litter, more than 70 Mainers came to Augusta to discuss a variety of important environmental issues with their legislators. NRCM's annual State House Action Day brings together folks of all ages to help protect the nature of the Maine we love! Thanks to everyone who came to make a difference in Augusta!
NRCM Senior Director of Advocacy Pete Didisheim talks with NRCM members and activists before heading over to the State House to meet with legislators.
NRCM CEO Lisa Pohlmann and Lincoln County constituents speak with Senator Dana Dow (R-Lincoln) in the Maine State House.
Rep. Michael Sylvester speaks with (from left) Ryan Linn of the NRCM Rising Leadership Team, NRCM Federal Outreach Coordinator Kristin Jackson, and Chris Stroebel.
NRCM Rising Leadership Team member Yvette Meunier speaks with Rep. Denise Tepler (D-Topsham).
Senator Brownie Carson (D-Cumberland), NRCM's former executive director, speaks with members outside the Senate Chamber.
Representative Chloe Maxmin (D-Nobleboro) stops to speak with NRCM members about top priority bills.
Howard Hill Snowshoe/Hike
Hallowell and Augusta on Saturday, March 9, 2019
More than 80 people joined us on a perfect late winter day, with blue skies and temps in the 30s, to enjoy a snowshoe hike from Hallowell to Howard Hill, on land protected by the Land for Maine's Future program. The group was led by Augusta's park steward Ansley Sawyer and Kirsten Brewer from the Kennebec Land Trust. There were children and adults of all ages, as well as some friendly leashed four-legged friends who joined us for this fantastic walk through the woods!