Solar power is a clean, pollution-free, renewable energy source that is available statewide. But Maine is falling behind other states in the region in developing solar power. Maine should take charge of our electricity by better helping homeowners and businesses develop their own clean, local solar power.
In 2017, NRCM will advocate for the passage of Rep. Seth Berry's bill, LD 1373, "An Act to Protect and Expand Access to Solar Power in Maine." There are a number of other solar bills that NRCM will be monitoring this year, but we're focusing on this bill, which will protect net metering, reestablish a solar rebate program, and lift barriers on community solar. Despite tremendous opportunity to benefit consumers and create good solar jobs, the Public Utilities Commission has approved a net metering rollback that will send Maine backwards even further. So we need legislative action now!
In February 2017, Maine's Public Utilities Commission (PUC) adopted rule changes that would gut net metering for future customers. Net metering has made it possible for thousands of Maine home- and business-owners to own and produce their own solar power. Maine is already lagging far behind our region and the world around us in embracing solar power, a competitive, reliable, local energy resource. The PUC's rules will set Maine back even further on solar power if they are allowed to take effect at the end of 2017. Fortunately the Legislature has one chance to prevent that from happening by passing a bill this session. Learn more about the PUC's anti-solar proposal here.
Solar Energy is Good for Maine's Environment
Maine people overwhelmingly support solar energy because it reduces pollution and protects the environment. Fossil-fuel burning power plants are a leading source of climate-changing pollution. It is important that we increase clean energy sources since climate change threatens Maine's economy and way of life in serious ways. Solar panels provide extra value because they produce clean power when we need it the most—on hot summer days when power from the electric grid is the most expensive and most polluting.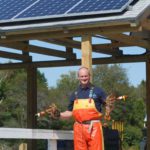 Hear from Maine home and business owners about why they chose solar energy. Also, learn facts about solar energy: for instance, did you know that solar installations quadrupled nationally in the last four years while solar prices fell 50 percent? Click here to learn more.
Solar Energy is Good for Maine's Economy
Every year, Maine sends billions of dollars out of state to buy fossil fuels. The path to keeping our energy spending in Maine and increasing our energy independence is for us to invest in more homegrown renewable energy, including solar power. Prices for solar panels have fallen 75% in the last five years, making it a great option for producing electricity in Maine. And rooftop solar power is a way to limit expensive transmission and distribution costs that are driving up electric rates for Mainers. Solar power can be generated in every Maine town, urban or rural. Maine has the potential for a robust, statewide solar industry that already includes several dozen companies and an estimated several hundred Maine people. But Maine is falling behind other states in solar energy, solar jobs, and cutting energy costs. For three years in a row, Maine has had the fewest solar jobs per capita of all the New England states.
What's Happening in Maine?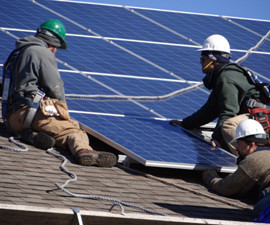 Clean, renewable energy sources are helping Maine become more energy independent, improving our air quality, and advancing our economy—through new clean energy jobs and by reducing how much money we send out of state for fossil fuels. But there is much more we can and should do to promote solar energy.
States and nations with less sun than Maine are installing huge numbers of solar panels on rooftops. But our state has no vision or plan for how to make solar accessible to more Mainers. Maine people deserve access to an affordable way to generate their own power. But corporate utilities are lobbying to limit solar power for Maine homes and businesses. They want to protect their own profits by opposing policies to make solar more accessible to more Mainers and reducing how much Maine people get paid for the solar electricity they produce.